Phoenix Conservatory of Music:
Where are they now?
Backpacks are packed, homework is flowing, there is just a touch of spring in the air- and we have started another great season of programs here at PCM.  We've been so lucky to have our Alumni participating in our programs in truly meaningful ways, so we thought we would share with you how our graduates are giving back to our community.
Anna Martinez, who will be starting her Senior year at Grand Canyon University!  Senior recitals, here she comes!  We are so proud of her hard work and effort as a voice performance major!
Paulina Villalón earned a spot on the Spring 2017 Belmont University Dean List and transferred over to ASU to focus on Entrepreneurship.  She is currently working in the music industry as a part time staff with Insight Management for marketing, and full time this past summer at marketing and festival ticketing agency!
PCM bassist Jonathan Travis is not only helping with bass lessons and ensemble direction, but is  an integral part of our staff.
Alicia Castillo is also a dedicated part of our staff where you can find her at the front desk Monday through Friday.  She is going to school for music and is currently volunteering for Musicians on Call at Phoenix Children's Hospital, bringing live music to the bedsides of patients.
Omar Torres proudly passed his insurance test to be a licensed insurance producer and is currently working for State Farm.
Yosin Gutierrez is starting his sophomore year at Arizona State University!  He had a great learning experience his first year and continues to check in from time to time to see how his fellow musicians are fairing!
Madison Denbrock is currently at Berklee College of Music and doing workstudy at the City Music office. This summer she did an internship in Nashville, TN!
Isabella Villalón, is back from Nashville, TN and is currently teaching voice classes, assisting with voice and piano private lessons,helped with summer camps this summer, and is currently studying social work at Grand Canyon University!  This fall she is also helping with the College Prep Program!
Michael Gloria helped with audio production camps, and as a Music Production and Engineering Major at Berklee College of Music.  He is studying this fall at the Berklee Valencia Campus in Valencia, Spain.
Keirnan Johnson, was so instrumental (pardon the pun) in helping us move into our upgraded facilities inside Metrocenter Mall.  He is currently starting an adventure in Nashville, TN and is still composing daily.
Michael Godwin, in entering his last year at Berklee and he spent the summer on the Berklee Campus and was the student supervisor at the drum lab.  He had the opportunity to engage with our most recent percussion graduate, Cian Callahan (who is starting ASU this fall as a jazz percussion major) when he was there for Five Week.
Kyler Van Horn, who is starting his junior year at Arizona State University has been helping with audio production and songwriting with PCM students.  He also joined the PCM Board of Directors in August 2017.
We are so proud of all of our alumni for the inspirational and amazing things they are accomplishing as they make their way in the world.  We know that without YOU and your support, their journey would not be what it is today.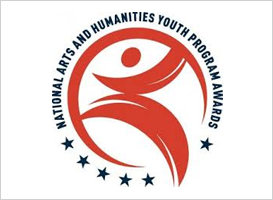 Did you know that PCM is a FINALIST  for the National Arts and Humanities Youth Program Award? Want to learn more about the award?  
Click Here!
Stay "tuned" this fall as we prepare to discover if we are a winner!!!
At the Phoenix Conservatory of Music, we know that music is a way for us to grow, to learn and to play together. Music can soothe our soul, lift us up, bring us closer, and teach us to work together. We experience creativity, process based thinking, and problem solving. We can use music as a tool to fulfill our potential; as community, as educators, as families, and as people.Our mission is to provide quality music education that is affordable and accessible.
You have helped us to make a lasting impact on our students and our community!!  Thank you for your support!