The Country Music Association (CMA) Foundation has awarded Phoenix Conservatory of Music's College Prep Program a 2018 grant to support continued music education efforts.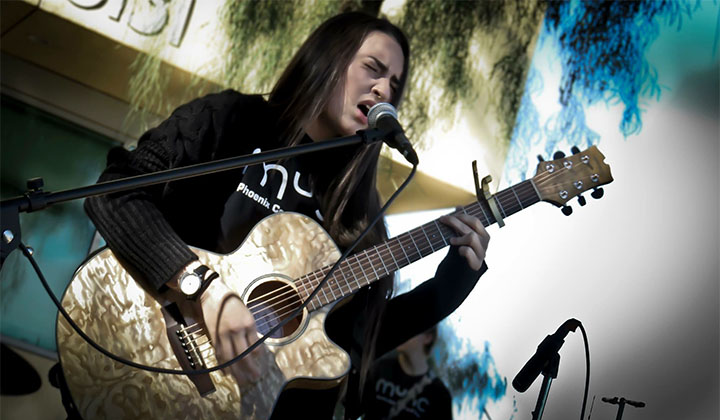 The Phoenix Conservatory of Music's College Prep Program is the Conservatory's flagship program.  The College Prep Program has been in operation since a partnership began with Berklee College of Music's City Music Network in 2010.  It is an out of school time program drawing students from all over Maricopa County that takes place 30+ weeks throughout the year.  The College Prep Program's goals are to have seniors successfully graduate from high school and develop a plan for their post high school education with some placement in academic and/or music programs in colleges and universities with scholarship dollars earned, advance our student population in their skill set acquisition through a critical pipeline in music learning, and earn scholarships and admission to summer intensives.   Students are given a minimum of 3 hours of music instruction per week for 30+ weeks of the school year totaling 130 hours. The core program offers music theory, ensemble programs and enrichment (starting with percussion, sight singing and piano for younger students, and growing into songwriting, audio production, music business and audition and interview preparation for high school students).  In addition, students can opt into private music lessons and multiple ensembles.  Our students are at PCM, taking advantage of learning opportunities for 5-10 hours per week.
This honor and support from CMA Foundation is a piece of great news on top of a fantastic 2017.  In January of 2017, Phoenix Conservatory of Music moved into new, larger, more appropriate space inside Metrocenter Mall.  In October, PCM was honored with a Mayor's Arts Award.  In November, at a special ceremony in Washington, D.C. the nation's top cultural agencies honored the best Creative Youth Development programs from over 350 nominations from across the country for their work in providing excellent arts and humanities learning opportunities to young people.  Three of Phoenix's own students had the honor of traveling to our Nation's Capital to The Phoenix Conservatory of Music as it was recognized with a 2017 National Arts and Humanities Youth Program Award.  The award was presented by The National Endowment for the Arts and their partners.
What is the secret sauce that allows all of this to happen?  "All three of my children take lessons here…take ensembles and have enrichment classes", Says Michael Gleba Sr., "My children [are] just having their horizons expanded and the opportunities and options for them as they grow up are just more than they could possibly think.   There are scholarships available and it makes it so much easier with the support the conservatory gives…is just something you don't see a lot.  Being here for several years, knowing all of the hard work that the staff and teachers provide, it makes me proud to see the organization be recognized because it takes so many people to make this work".
Because of the tireless work dedicated to making sure that there are no barriers to serving those students in need, with over 50% of its budget going towards the 62% of its population in need, the Phoenix Conservatory of Music (PCM) was awarded status as an Arizona State Qualifying Tax Credit Charitable Organization.   This is a fantastic benefit for both the student and the donor.  The state of Arizona offers its taxpayers the opportunity to make contributions to schools and non-profit organizations that reduce the amount of tax owed to the state or increase the amount of the taxpayer's refund, dollar-for-dollar. There is NO NET COST to the donor and deserving individuals around the state benefit.  Married Couples can give up to $800 and single filers can give up to $400.  Donors just need to make sure to fill out FORM 321 when preparing your taxes to ensure the gift is credited back. The general public will have the opportunity to learn more about the organization and the work it does at their upcoming 20th Year Celebration Concert on February 22, 2018. (visit: https://pcmrocks.org/event/pcms-platinum-anniversary-concert/?instance_id=42 )
PCM is creating a rallying point for our community, to say that they care that these young people are getting the training and care that they need in a supportive and safe environment.  The students are getting opportunities to enhance their education with opportunities and experiences that would otherwise not always be available to them, they have a safe place that creates opportunities for risky innovation, collaboration, and social interaction.  This in turn creates a stronger, healthier community and the outcomes are fantastic.
PCM's College Prep Program serves on average 110 students per year.   In the last seven years, this program has had a 95% high school graduation rate (compared to 86% in our local community), 71% go to college or university, 43% study music or music related fields, and they have cumulatively earned over $1M in scholarship offers.
Funds for the grant were raised through CMA's annual CMA Music Festival, held in Nashville each June. In 2018, the CMA Foundation will bring their total contributions to over $20 million, in support to in-and-after-school music education programs across the nation.
Multiple studies have shown that students who participate in the arts are more likely to graduate, have better attendance rates, and have higher GPAs than students who are not enrolled in an arts program.
Guided by the generosity of the Country Music community, the CMA Foundation focuses on improving and sustaining music education programs everywhere while supporting worthwhile causes important to the Country Music Association. Since 2006, CMA and the CMA Foundation have supported quality, sustainable music education programs, enhancing the lives of students through the power of music. For more information, please visit CMAfoundation.org.