Phoenix, AZ (September 18, 2023) – On Saturday, October 14, 2023, from 1-4 p.m. Berklee College of Music / Berklee City Music and the Phoenix Conservatory of Music will host a workshop for middle and high school students focused on pursuing a college education and careers in music and the music industry.  The workshop will be held at PCM Main, 1316 East Cheery Lynn Road, Phoenix, Arizona. Phoenix Conservatory of Music (PCM) is a nonprofit, creative youth development organization through music education that provides a continuum of high-quality music education focusing on contemporary music education.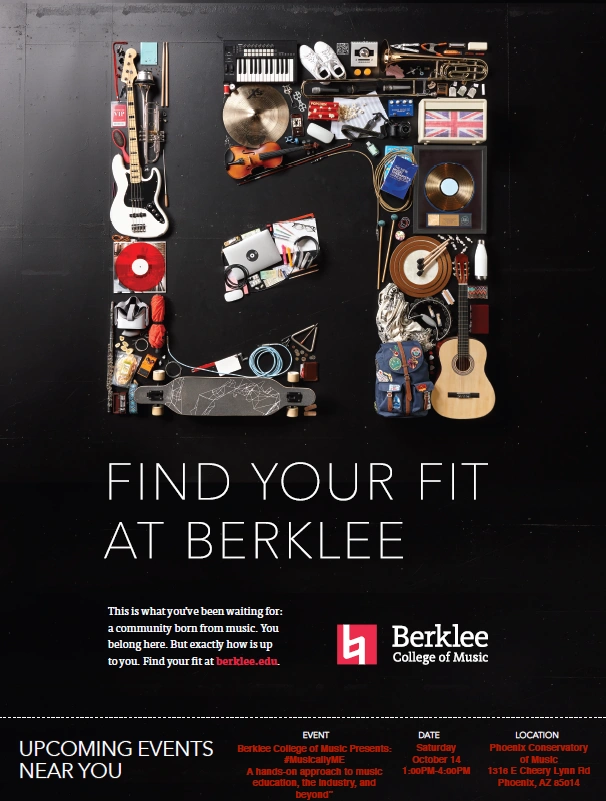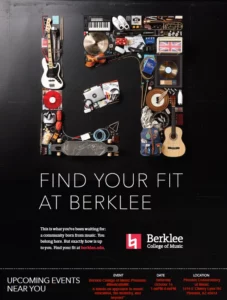 "Our youth are simply amazing. Game changers. They are, and will continue to revolutionize music, the performing arts, and the world. I am psyched that I get to be a small part of that journey. As a first-generation college graduate and self-identified Black female vocalist, actress, and dancer from a small town in Massachusetts, I am extremely passionate about creating opportunities to engage our talented and amazing scholars. They do the work, they forge the path, I just want to make sure they know they have support along the journey. We created #musicallyme to provide students with the tools they need to pursue a career in the music industry. We want to encourage them to believe in themselves and to let their dreams become their realities. Only they can define what success looks like for them. They need to know that success in the music industry is possible." – Natara Gray
This workshop will be facilitated by Arin Canbolat, Berklee Associate Dean for Education Outreach; Natara Gray, Berklee Assistant Dean of Admissions, Diversity and Inclusion Recruitment; Kaimy Masse, Berklee Associate Professor; and Chris Bank, JAS In-Schools Director.
"Success for Berklee City Music is for students to realize their potential and take the steps necessary to accomplish their goals wherever that leads them.  What we've noticed with these workshops is how appreciative students and parents are for information delivered in a meaningful way so that they feel confident as they take the next step of their educational journey," said Arin Canbolat.
The workshop will feature breakout sessions for students, parents, and guardians that will provide materials, interactive guidance, Q and A, and an opportunity to record musical pieces, including spoken word and hip-hop, to be in their audition packages. Also, each participant will have a mock college audition and interview.
"The Phoenix Conservatory of Music is so honored to be hosting this event for our community. As a proud Berklee City Music Network Partner, our College Prep Program is designed to provide students and our surrounding community with opportunities like this- experiences that will not only give students hands-on, tangible skill sets to help them successfully navigate college music auditions but to help parents and educators understand the inputs necessary and discover local resources and pathways that will help students achieve their post-high school educational goals", says Phoenix Conservatory of Music Executive Director, Regina Nixon.
The day will include an introduction, an overview (presented by Berklee) about going to college, breakout sessions for students/ parents/ educators, a mock audition, student creative groups with presentations and feedback (like a small masterclass), alumni experiences, and closing reflections.
Students, bring your instruments.  Parents, bring a way to take notes.  Teachers, we got you! Come and tour the facility, learn about our professional development opportunities, scholarships available for your students, and more educational resources for you to direct your students to.
RSVP: http://evite.me/rceSQFWx7Q
About Berklee City Music
Berklee City Music® is a non-profit organization that leverages the power of contemporary music to empower youth from underserved communities to develop musically, academically, socially, and emotionally. Founded over 30 years ago by Berklee College of Music, the organization reaches over 60,000 students annually through a variety of programs and initiatives, including City Music Network, City Music Boston, and the innovative PULSE® online music method. By using culturally relevant music as a vehicle for holistic youth development, Berklee City Music helps young people flourish as students, musicians, and—perhaps most importantly—confident and well-rounded individuals ready to shape the world. https://www.berklee.edu/ or https://www.berklee.edu/city-music
About Phoenix Conservatory of Music
Phoenix Conservatory of Music (PCM) is a nonprofit, creative youth development organization through music education that was founded in 1998. PCM provides a continuum of high-quality music education and experiences to nearly 2,000 students annually, with programs ranging from introductory-level education and after-school programs to more advanced private lessons and music theory classes. PCM is also home to the national award-winning College Prep program, an after-school college readiness for contemporary music education, in partnership with the Berklee College of Music and The Berklee City Music Network.
For More Information Please Contact:  info@pcmrocks.org, 602.353.9900 or check the website, https://www.pcmrocks.org
For press opportunities, please contact Regina Nixon, regnixon@pcmrocks.org