Calling all student (4-12 grades) drummers, horn and wind players, keyboardists and pianists, bassists, guitarists, string players and singers.  PCM's College Prep Program, cited as one of the best creative youth development programs in the country, is accepting new students.
August 2018
Phoenix, Arizona
"I am so thankful for the amazing teachers and lessons I have received. I would never have been able to overcome my fear of stage performance and enhance my talent. Music means so much to me because it has been my oasis in times of stress and need…the opportunity to learn who I am and what I am capable of offering the world." Jo-el Banini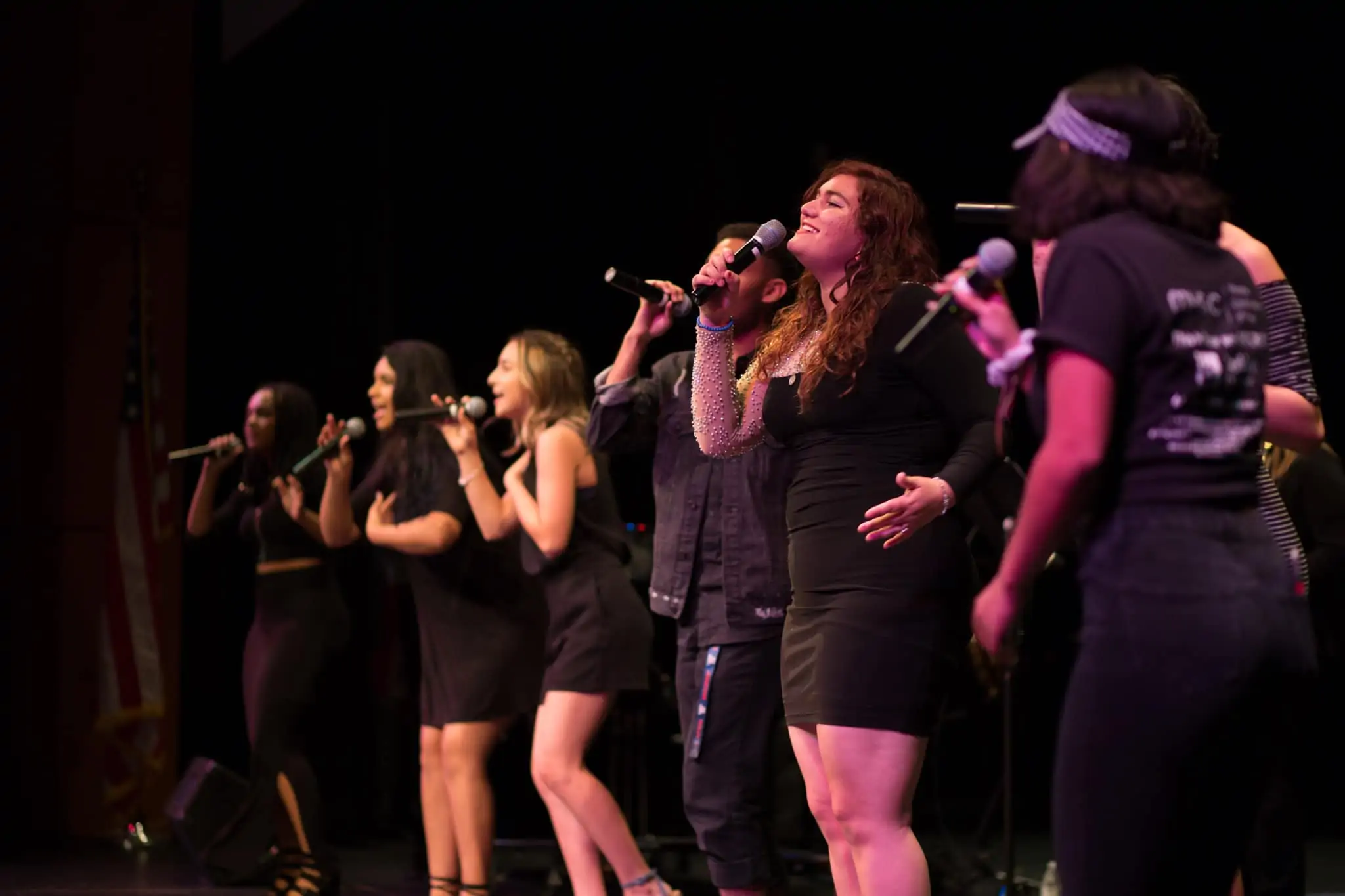 Phoenix Conservatory of Music's (PCM) College Prep Program, a 2017 National Arts and Humanities Youth Program Award Winner, is one of the most prestigious college preparatory programs for contemporary music education in the state. As a partner of Berklee College of Music's Berklee City Music Network, PCM is one of 47 community music schools in the nation to utilize Berklee's PULSE curriculum as a base for our comprehensive, audition and merit-based program.
Utilizing PULSE, PCM has built a robust 10-month after school program for students starting in the fourth grade. This program gives students opportunities to learn in a setting that mimics college study with private lessons, contemporary music ensembles, music theory, relevant enrichment programs and many performance opportunities.
Serving over 100 students annually, PCM college prep students have been successfully placed at Berklee College of music, Belmont, ASU, NAU, Grand Canyon University and Musician's Institute in Los Angeles, and have earned over $1.5M+ in scholarship offers.
This prestigious, life changing creative youth development program is now accepting new students.  
"If you are a student musician or a parent of a student musician, this program would be of benefit.  It's more than just music lessons, it is a music community that focuses on building developmental assets in young people through the power of music", say PCM Executive Director, Regina Nixon. "At $70 per month for 3+ hours a week, this program is an extremely low cost program with financial aid and scholarships available.  Cost is not a barrier.  You just have to want to learn about music and be part of a tribe of peers who are just as passionate about music as you are."
Who are the students who do well in this program?   Musicians (drummers, horn and wind players, keyboardists and pianists, bassists, guitarists, string players and singers), grades 4-12, who are interested in being in a blues, pop, rock, funk, R&B, Jazz, Latin Jazz, Strings/Orchestra group with their peers.  Young musicians who want to expand their skills, have unique opportunities and collaborate with other musicians their age from all over the valley.
Musicians will receive 3-10 hours per week of music education for 30+ weeks throughout the school year.  It will include:
Modern Band Ensemble (Blues, Jazz, Rock, Pop, Latin Jazz, Strings)
Music Theory Classes (including accredited classes with Paradise Valley Community College for college credit)
Enrichment Classes (class piano, class guitar, sight singing, rhythm reading, audio production 1 & 2, songwriting, composition, and more.
Music Industry Masterclasses and Workshops
Performance Experience
Opportunities to write and record songs (at Grand Canyon University) for submission to the annual compilation CD
Access to summer intensive scholarships
Accommodations are made for students in school music programs like show choir or marching band.  PCM wants students to have every opportunity to experience success with multiple programs, and will work with them to make sure that their commitments don't compete.
"This is a true community school where peer learning is abounding, and everyone is welcome.  We have students who are beginners learning from their world class teachers and their peers, and students who are quite advanced who are honing their skills and learning to pay their craft forward and give back to the community in meaningful ways." Says Regina Nixon. "We have a sliding fee scale so that there are no barriers to participation.  We have market rate tuition for people who can pay, financial aid and scholarship opportunities for students in need-  so every donation we get goes to help those students.  We encourage people to learn more and get involved by donating treasure or time, or enrolling a student today.  Everyone can be a part of the magic."
Auditions will happen during the month of August at Phoenix Conservatory of Music, 9617 N. Metro Parkway West, Ste. 2112, Phoenix, AZ 85051.  To schedule an audition, visit: https://pcmrocks.org/learn-to-play/college-prep/ or call 602.353.9900.