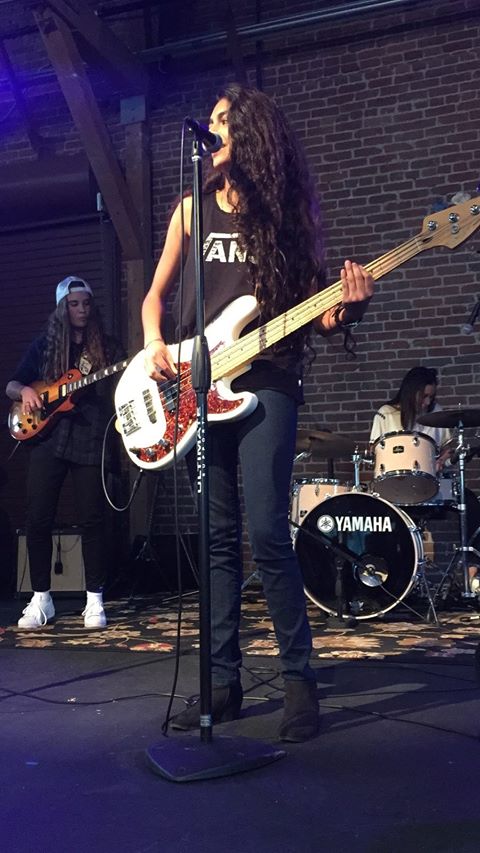 Congratulations to PCM's April Staff Member of the Month, Alicia Castillo!
Phoenix native Alicia Castillo is a multi-instrumental singer-songwriter, as well as PCM's new front desk assistant! She's been playing guitar for about five years now, and singing for even longer. Alicia has also been playing bass for about 3 years as well, and played bass in PCM's College Prep Program from 2015-2016. In the past, she has played the clarinet, flute, and piano.
Alicia says that she got interested in music "at a very young age because of [her] dad. He worked with custom car audio for over 20 years and is a big vinyl collector, so we always had music playing at home at all times." She says that her dad still continues to inspire her, since they work together on recording her original music. Alicia says that she's most interested in singer-songwriter and soft rock type music, so she's influenced by artists such as the Eagles, Cameo, The Doobie Brothers, Chic, Fleetwood Mac, Lewis Watson, and Ed Sheeran. She says that she loves how "just with a guitar and a loop pedal, Ed Sheeran can make it sound like he has a whole band with him." Loop pedals are a large part of Alicia's writing, since she enjoys the sound.
This is Alicia's second year working with PCM overall and she says that she's really enjoyed it so far. Being in the College Prep Program was "a great experience as well because I was able to play with other musicians my age, which I never was able to do before because I was self taught." She says that she "loves working at PCM because I'm surrounded not only by music, but students of all ages who are just as passionate about it as I am!"
In her spare time, Alicia enjoys spending time with her family, reading, and watching movies. She also loves volunteering and is currently a volunteer at Phoenix Children's Hospital, where she plays music bedside for patients. Another interesting thing about Alicia is that she loves film scores/ orchestral music and is working on composing orchestral parts for her own music!